Best Accommodation and Events at Dublin 1 Hotels Ireland
The Wynn's Hotel Dublin is the great accommodations if you are looking for a place to stay in Dublin city centre. We are in Abbey street and ideally loacted to visit many of Dublin's tourist attractions such as Book of Kells, The Jameson Distillery, Christ Church Cathedral, The Chester Beatty Library and much more.
Cheap Hotels and Events in Dublin 1
Looking for a 19th century with a modern design hotel in the heart of Dublin, just walking distance from Dublin's best shopping district? then Wynn's hotel is the right place to choose.
Best Bar and Events at Dublin Hotels Ireland
Saints and Scholars Lounge is one of the beautiful teak and mahogany bar in Dublin, guests may choose from a large selection of quality drinks served by our friendly professionally trained bar staff.
Live Concert Music Event Dublin Ireland
The Hotel is situated at the heart of Dublin City Centre in Abbey street, a short walking distace from Temple Bar where the place is packed with pubs to cater to all your musical needs.
Bars like The Temple Bar and Oliver St John Gogarty's serve up a helping of live traditional music most nights. The Palace, often sees a gathering of traditional musicians playing upstairs.
Another place is the Button Factory, it is also smack bang in the middle of Temple Bar. With live music offerings most nights you are bound to catch some really great Irish and international acts.
The pub The Crow Bar also hosts brilliant local bands (mostly for free).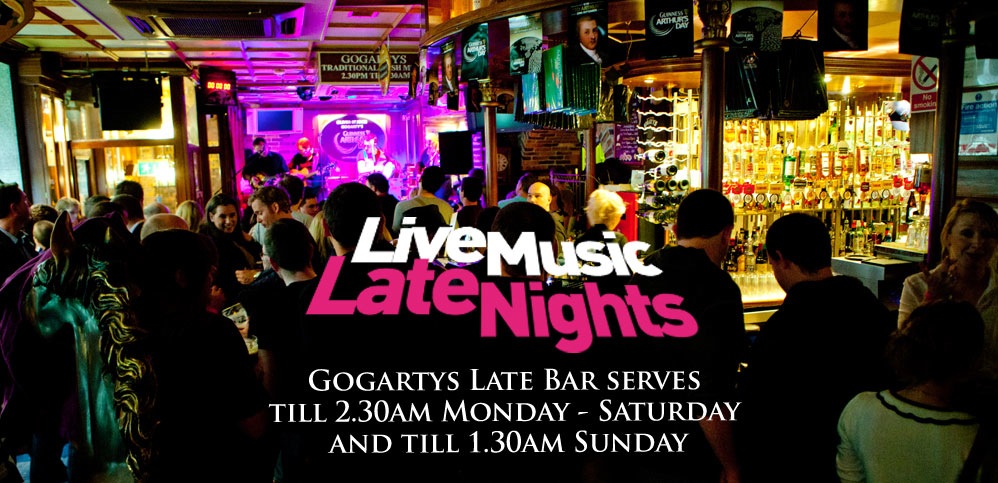 Food & Drink in Dublin Restaurants Ireland
The Playwright Restaurant at Wynn's Hotel is well known to serving food from using mostly Irish and Organic produce, you can enjoy pre-theatre menu or carvery lunch r dine in our restaurant A-la-Carte.
See Sample Lunch Menu !
Restaurant lunch :
• Monday - Saturday 12pm - 3pm
• Restaurant Sunday lunch on request for bookings 10 or more pax
Restaurant dinner
• Wednesday - Saturday 5.30pm - 9pm
Sports Events in Dublin Ireland
We ar located in a short distance from the Dublin's most prestigious sports complexes, while your staying with us, you can catch up with all the major sports on TV or attend a sport centers to watch the events. See Croke Park Stadium , Aviva Stadiu .
Hotel with Fitness Events in Dublin Ireland
Wynn's hotel in Dublin city centre offers wide range of gym and fitness facilities for guests to enjoy their work out.
Events in Hotels Ireland
Wynn's Hotel's meeting rooms can cater for product launch, seminars, sales meetings, exhibitions and conferences. We provide all the necessery facilities for a modern conference or any other events or function. Find out more !
Last Minute Dublin Hotels and Events Deals
We are one of the hotels in great location of Dublin city centre, our rooms blends the authentic decor of the past with contemporary facilities.
Click here to learn more about our bedrooms and facilities!
Map - Live Concert Music Event Dublin Ireland
What's On In Dublin
•Trinity College The Book of Kells, •St. Stephen's Green, •Dublin Castle, •Wax Museum, •Christ Church Cathedral, •Saint Patrick's Cathedral, •Chester Beatty Library

Advertise With Dublinevents
**For more information about advertising with us please contact us at Email: guide@dublinevents.com or Call us on 00353 (01) 2954962
Wynn's Hotel Dublin
Reviewed by: Dublinevents
Wynn's Hotel Dublin Review by Dublinevents
3 / 4 stars