Roly's


Visit their site
Roly's Restaurant & Café, Ballsbridge has been one of the most popular Dublin restaurants since it opened in 1992. Roly's is located close to the American Embassy and serves top class food at affordable prices. Be sure to ask for the wine and dine menu, which includes a three course meal and UNLIMITED wine for only €50! If you find a better deal in Dublin we will eat our respective hats.
Acopulco Mexican Restaurant


Visit their site
Situated right in the heart of the city centre, Acapulco on South Great Georges Street, a colourful and lively Mexican Restaurant, offers the very best traditional Mexican cuisine in Dublin. The menu has all the classic favourites but the real must try are their awesome nahcos supreme costing only €9.50 and don't miss their famous margaritas, only €6.50 Wednesdays!
La Reserve


Visit their site
La Réserve Brasserie, Ranelagh is an intimate and lively French brasserie. While they specialise in serving a modern take on French classics, the menu also includes divine international cuisine. The focus in La Reserve is on simple, yet high quality dishes, prepared and presented with precision and faithful to true flavours.
Don't forget to take advantage of their Market Menu deal of 2 courses for €19.95 or 3 for €22.95.
Dax Restaurant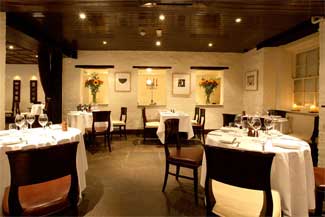 Visit their site
Awarded Best Restaurant in Dublin in the 2014 Irish Restaurant Awards and nominated as Best Restaurant in Dublin and Ireland for the past three years in Food & Wine Magazine Restaurant of the Year Awards, the National Hospitality Awards and Irish Restaurant Awards, Dax is lauded by food writers and critics as well as its many fans. Dax also do a top notch and affordable pre-theatre menu for €24.50 for 2 courses and €29.50 for 3 courses between Tuesday to Friday from 5.30pm to 6pm.
The Wild Goose Restaurant


Visit their site
The Wild Goose serves delicious, classic bistro style food in ambient and comfortable surroundings. The menu is magnificent and they do have an 'early goose' menu consisting of €27.95 for three courses. There's a killer wine list as well to suit everyone's taste with nearly three hundred bottles to choose from. They also feature 30 different wines served by the glass.
The Rustic Stone


Visit their site
Looking to devour divine food and still keep it healthy? The Rustic Stone may be what you're looking for. The dishes are made with olive oil, and nowhere will you find butter or cream in any of they're dishes. They use lots of fresh herbs and salads grown by local farmers that the chef personally knows and trusts. Added to this, Rustic Stone also use organic produce where possible, always insisting on freshness. The focus here is on the positive virtues of different ingredients and draw out the flavour as well as the goodness from within.
Be sure to avail of the spectacular €25 sharing menu not to be missed, take note that this is not available
6.30PM ON WEDNESDAY & THURSDAY OR ALL DAY FRIDAY AND SATURDAY.
Gallagher's Boxty House


Visit their site
Pádraic Óg Gallagher's passion for using natural ingredients and the use of carefully chosen artisan food producers from Ireland underpin the Boxty House experience. The proud home of 'the humble spud made beautiful,' i.e. Boxty, Gallagher's is practically an Irish institution and does arguably the best Irish breakfast in town. They also have a great menu all round the arguable highlight of which is the Trio of Lamb. This consisits of a wonderful array of Lamb – Braised Lamb foreshank, Miniature Shepherds Pie, Slow-Roasted Lamb Boxty, and Pan-fried Vegetablesat excellent prices and it's located just off temple bar.